You may not be aware of it, but you save a huge amount of data on your hard drive every day, including irreplaceable files that you would never want to lose. Photos from your recent vacation, your wedding video, sensitive work emails, sessions of your favorite games…
You probably don't spend too much time thinking about it, but your hard drive is like a little safe that holds a large part of your life. But are all your files truly safe?
The answer is no. Files saved on your PC are not as safe as you might assume, and in fact, any unexpected error, power outage or virus could corrupt everything you have, wiping away your memories. Fortunately, there's a way to keep your files safe: creating a backup of your PC.
In today's article, we'll walk you through the steps to create a system image of your Windows 10 computer. Don't worry, because the process is easy and requires no prior IT knowledge. Let's have a look!
What is a Backup?
A backup is a copy of your documents and files that you can create in order to restore them in case of emergency. It's especially useful for recovering files that have been corrupted or deleted by mistake, or, for example, restoring your computer after reverting to factory settings.
Essentially, there are two kinds of backups you can create: a backup of the files stored on your computer or a full system backup.
The first option saves your personal documents (photos, emails, videos, etc.), and the second one creates an exact image of your OS that can be transferred to an empty computer.
Whether you want to back up files or your entire system, you've come to the right place. Keep on reading to find out how to do both things!
How to Back Up Your Files on Windows 10
Windows 10 has its own tool to back up personal files, and it's quite easy to use. Called "File History," it lets you back up your personal data on a regular basis in a matter of seconds.
To access File History, first go to the Settings menu (Windows key + I) and then select the "Update & Security" option.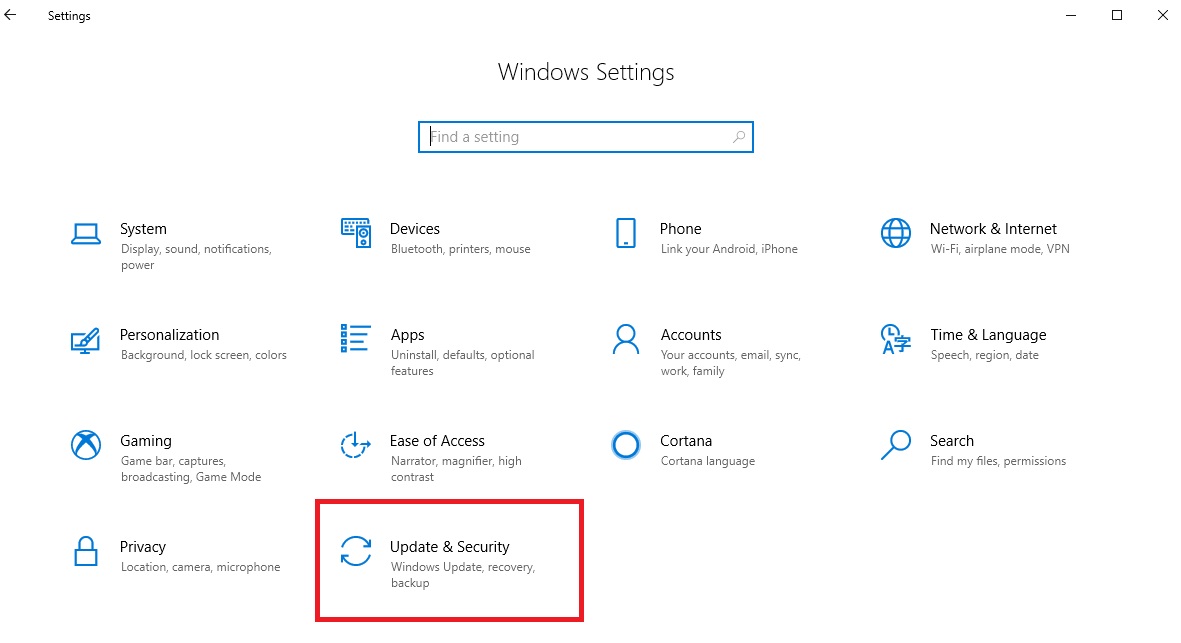 Next click "Backup" in the menu on the left side of the screen. When the window opens, select "Add a drive," which you'll find under "Back up using File History."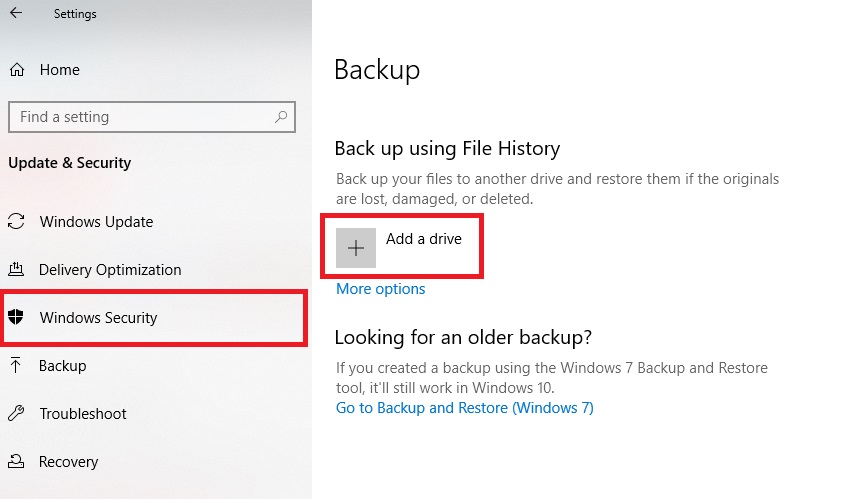 Click there, and a menu will appear on the left side with all the external hard drives connected to your computer right now. Choose one to save your backup on. Then Windows 10 will automatically copy all the files you have stored on your PC.
If you prefer, you can create your backup manually by selecting "More options" followed by "Back up now."
On the same screen, you can choose how frequently you want to back up your files and which folders you want to include in your Windows 10 backup.
How to Store Personal Files from Your Backup
Now that you have your files backed up, we're going to teach you how to restore them. Not to worry, the process is easy and intuitive!
To restore any file saved in File History, go to Start (the button with the Windows icon on the lower left side of your screen). Then type "Restore files with File History" and click on the result that Windows displays.
In the next window, you'll see your backups listed by date. You can browse through them using the arrow icons at the bottom of the window.

Once you find your copy, you can fully restore it, or if you prefer, only restore the file you need.
Where Can I Store My Backed-Up Files?
The best place to store backup copies of your files is an external hard drive, but a cloud storage service is also an option. Both have their pros and cons. Keep reading to find out what they are!
External hard drives are great for storing your files in a physical location where they can be accessed anytime, without needing to connect to the internet.
Besides being durable and easy to use, this option gives you the peace of mind of knowing exactly where your files are and that they'll never disappear on you.
You can buy a hard drive for a great price by searching online or checking out the options on Amazon.
Cloud storage services are another great option for keeping your backups safe. They're convenient because you can access your files on any device with an internet connection. That makes them a perfect option for storing work files that you need to be able to access at home or the office.
There are many excellent cloud storage services. Our favorite is Microsoft OneDrive.
What Are The Main Types of Files You Should Be Backing Up?
Now that you know how to back up your files and where to store them, we're going to look at what kinds of files you should back up.
First of all, there are personal files, that is, your photos, documents, music, etc. Usually you can find them under "C:\Users\Your username" and saved in the corresponding folder (Photos, Documents and Music).
Also, we strongly suggest backing up your AppData folder, which contains the settings of all the programs, applications and games on your PC.
And don't forget to back up important emails, such as sensitive work emails and personal messages.
Finally, make sure to back up any essential files for projects you are working on. For example, edited videos, photos or work files.
In short, use your common sense when deciding which files on your computer are important in your life, and which ones would mean a big personal loss if you couldn't recover them. Once you have identified them, add them to your list of files so Windows can back them up regularly.
We hope our guide on how to back up your files on Windows 10 has been helpful to you. If so, hit the ❤ button at the bottom of this article to let us know that you enjoyed the article.
In addition, if you run a business and would like to learn how an IT management company could be beneficial for your business, feel free to connect with us at ITX Tech Group for a free consultation to see how we can help!